Thanks to the marine climate, in Wakayama, the quantitiy of production for the mandarin orange is the top
in Japan. This is because a soil in this area facing the sea and well-drained is suited to the cultivation of fruits.
In this area, orange cultivation has flourished throughout ages.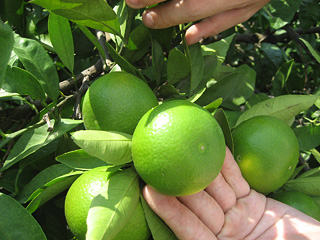 We buy oranges from selected farmres at Arida region,the home of the mandarine. There is a secret for cultivating excellent orange.
We manage the fruit thinning or pruning of branches. And what we most care about is Moisture control,watering at minimum so that trees, which are given stress, bear fruits kept a good harmoney with acid and sweetness.
We are sure to guarantee a high quality and taste.You can see nothing but a scenery of orange!!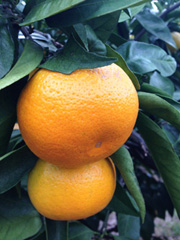 *The earliest harvest cultivation : Sep. to Oct.
(極早生:Goku Wase)
*Early maturing : Oct. to Nov.
(早生:Wase)
*Late- season : Dec.-Jan.
(晩生:Okute)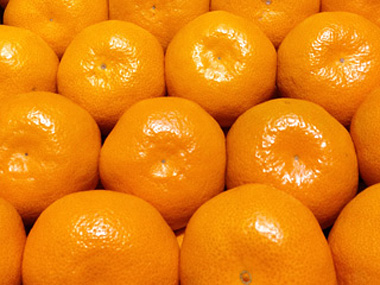 Farmers use only the minimum amount of pesticide and they mainly use organicfertilizer.
We cooperate with a excellnt farmers so that we can offer you a satisfactory quality and price.
Sugar content is high enough more than 12 degrees and also richly-flavored.
A color of the fresh of orange is so bright,and the sweetness seems to be melted away in a mouth.


It contains Vitamin C,pectin, citric acid and a lot of carotine.
It was found that Β-Krypto xanthine,which was the pigment of mandarin orange controlled cancer.
It is said to be effective in the prevention of cancer and removal of the active oxygen by eating 3 mandarine orange a day.